Remember back when I had this headboard?
You know it's an old photo because Miniboss hasn't been that small and cute in a long time #eviltoddler LOL.
Well I got rid of it. Sold it on craigslist for a whooping $5 :) I know, but I got it for free so really no biggie. I've been purging furniture I've collected lately to make room for stuff I really want, and I just didn't love that headboard. It wasn't tall enough and I outgrew the shabby chicness of it.
Well now we're headboard-less and it looks pretty bare so instead I found a temporary solution that will workout perfectly until we do move and I can hunt down that perfect headboard :)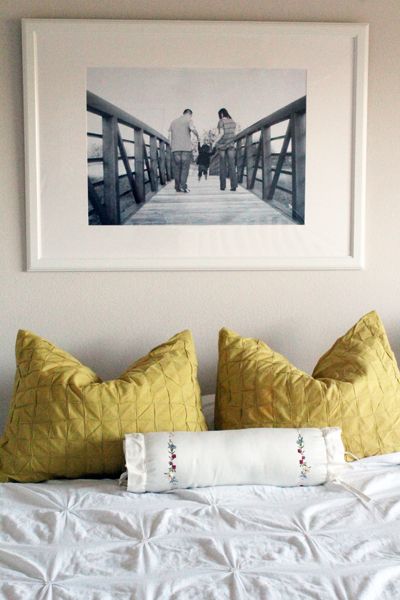 I just blew up a huge picture of us through shutterfly..though I could have done an engineering print, but I wanted a high quality photo so you could always do the engineer prints to save some money!
I got the frame from IKEA for $29.99 while we were in Dallas one weekend, and hung it over the bed with a monkey hook. Have you guys tried monkey hooks?! It's soo simple and holds so much weight..You know since it'll be hanging over our heads at night I don't want it to come crashing down! I had used one in the living room for a huge frame above the bench for a year and it held up perfect so I knew I had to use a monkey hook for this one as well! No tools needed and it comes out very easily as well so I can take them with us when we move :)
I think it's a great photo and it's not too in your face and kind of off beat since it's a picture of us indirectly, and not a huge cheesy photo of our faces lol. I love how it turned out, and the idea of not having a headboard, but still having something finish off the area.
Now I gotta get rid of more furniture and belongings that are just baggage and not worth lugging to another home. :) I know for sure I need a small couch, some sitting chairs, a coffee table, a guest bed, night stands for our room, a new dresser/solution for the tv, extra dining chairs, patio furniture, and office chairs! Eppp...lots of stuff I gotta get and that means lots of clutter to toss!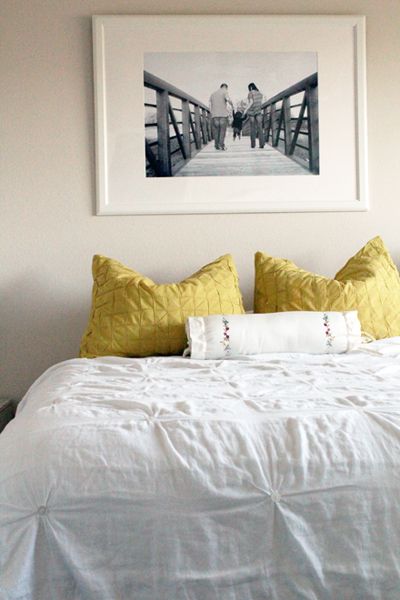 Source list: Shams from West Elm, white comforter from Target, white frame from IKEA, small body pillow from Dillards.