Miniboss's art table is against our half wall and it just looked kinda boring and sad. I haven't painted the set yet, and she has since helped me and painted it herself with markers and crayons. Well I didn't want her writing on the walls as well since it was a blank canvas just asking for her to draw on it, so I added some inspirational wall art.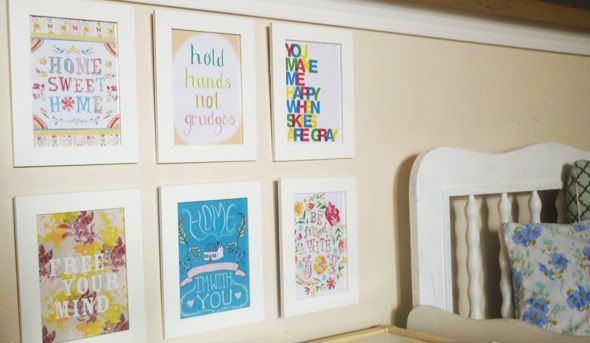 Top row says..
1 Home Sweet Home
2 Hold hands not grudges
3 You make me happy when skies are grey
Second row says..
1 Free your mind
2 Home is whereever I'm with you
3 Be filled with joy
I used 6 5x7 cheapie frames I had already from IKEA. I simply printed out images and quotes I've collected overtime from etsy and pinterest and printed then down to 5x7 to fit the frames. This project costed nothing since I already had everything on hand. The frames have a thin plexiglass and not real glass so I don't have to worry about her breaking anything in case she decides to redecorate when I'm not looking.