We had such a fun weekend! My sister and her family were visiting for my Birthday. It was so crazy around here with 3 munchkins, there was never a dull moment. I definitively miss "home" (Colorado) anytime family visits!
We spent my birthday at Chuck E Cheeses for the kiddos. Miniboss doesn't have friends her age here in Wichita Falls, so since her cousins were here, it was a must. They had a blast..too bad both kids were terrified of the Chuck E Cheese guy! lol!
I could not get my kiddo to stay still when it came time to take the picture :/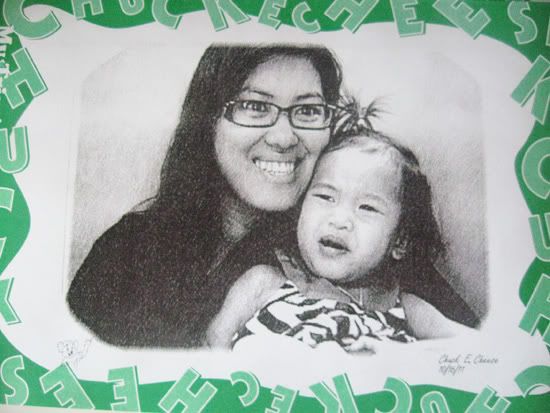 But yet when her Dad took one with her he gets this...
That's messedddd up! lol Posing and everything! lol!
I got one with my newphew but he started to move too.
At least he's not crying...
I also introduced my sister and brother in law to our FAVORITE TAKEOUT MEAL, Sushi & Roasted Chicken. It is such a good combo, and they loved it too. And my sister got us hooked on SMORES!
I wish they could have stayed longer. Time flew by so quick. I spent the whole time kissing and hugging and biting on my cutie patootie niece and newphew and I loved every second of it! I miss out on so much living so far away from them. They grow up so fast too. The sacrifices we make for being a military spouse :(