I run the dishwasher everyday. it saves me so much time and I dont have dishes piling up in my sink. the only downside is that I go through a ton of dish detergent! I googled up some diy dish detergents and set out to make my own. The supplies cost me $12. thats about 48 loads of dishes I would get with our normal Cascade packs. As long as I get 48 loads out of this mix I'd be breaking even...so why not give it a try?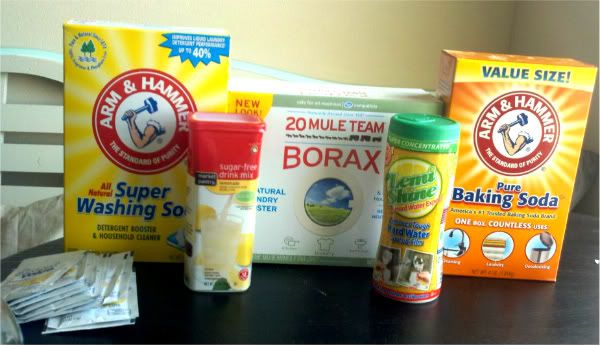 Ingredients:
1 box Pure baking soda
1 box Super washing soda
1 box Borax
1 Lemishine
24 packs of Lemonade Koolaid (or any sugar free lemonade or citrus acid)
(In my mix I used both packets of sugar free lemonade koolaid and a target brand sugar free lemonade mix..just because our store didn't have enough koolaid packets in stock)
All you do is mix all the ingredients (besides the Lemishine) together and its ready to use. You add a teaspoon of the Lemishine to the bottom of your dishwasher every wash. I've done 15 loads of dishes already and it works just as good as our old cascade did. I just fill up the Main wash with two table spoons of the powder mixture and close the lid and sometimes if the dishes are extra dirty I put a little into the prewash as well.
Other recipes online don't call for baking soda but I've been finding all uses for it so I figured why not?! lol
I found all the ingredients at Target and Walmart in the laundry aisle, you'd be surprised to find that homemade laundry soap has all the same ingredients as homemade dish detergent minus the Lemishine and lemonade koolaid. In place of those you add a grated bar of Zote soap! I have to try making that next..but I have 6 bottles of laundry detergent thanks to couponing to go through first!
Linking up to:
Tuesday Tutorials @ The Kurtz Corner