Some days I rummage through Miniboss's dresser and think to myself how she has nothing to wear! Even though the drawers are full I find myself looking for something cute in case she needs to be a spur of the moment model for mommy's projects :)
I have a bunch of plain white onesies I got from family and friends and baby classes. So I've been on a mission to make them super cute one onesie at a time :) my latest onesie makeover? A super cute and super easy ruffled necked onesie.
Boring plain onesie
Fancy Onesie!! :)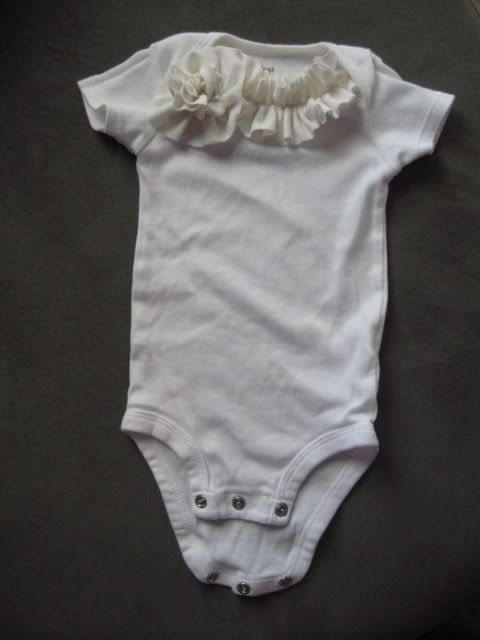 You will need
A onesie
an old t-shirt or fabric
needle and thread or a sewing machine
Step 1.
First I took one of Daddy's old t-shirts from the back of the closet. I wanted a little antique white color so old white t-shirts works best! I measured from the bottom of the shirt. 2 1/2 inches. I then cut off the hem and tossed it. The strip should be 2 inches now with the hem cut off.
Step 2.
Ruffle up the strip. I ran it through the sewing machine and it ruffled it for me! I didn't adjust it or anything, I just back stitched at the beginning and end of the strip. I also sewed slightly off the center of the strip.
Step 3.
Place on the neckline of the onesie and pin on the ruffle how you would like it.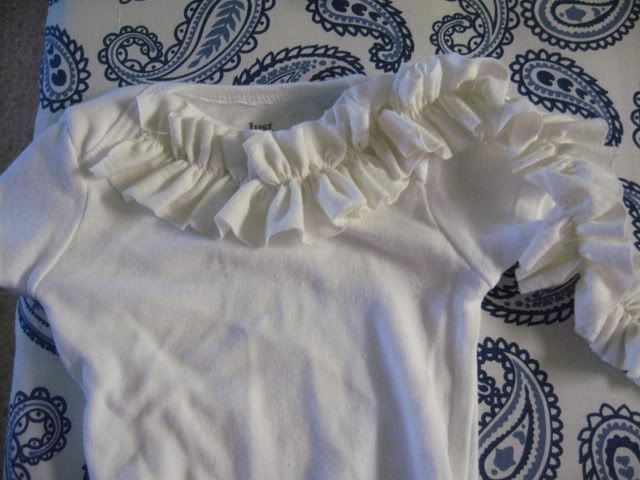 Step 4.
Sew on the ruffle to the onesie. I had extra ruffle length since my onesie is a 6-9 month size. I took the left over ruffle and spiraled it like my
frayed flower post
flower and pinned it on the neckline and sewed it on.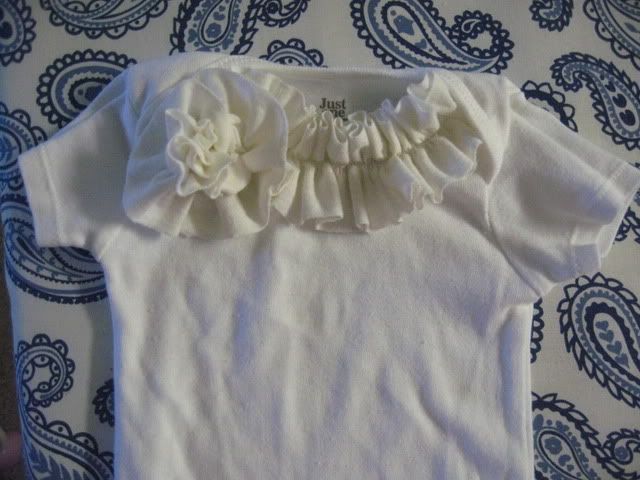 Wa la, fancy onesie! Now She can wear it with a tiny baby cardigan hehhe :)